EARLY-BIRD PRICING ENDS SOON!
GET $50 OFF WHEN YOU BUY THE COURSE TODAY!

What if you could lay the foundations for taking your life into your own hands and grow a thriving business in the span of just one week?
Or, let us rephrase that...

What if in just one week you could lay a basis for the rest of your business?

A foundation that will give you the confidence to know for sure that you are sustainably making money...

Because without getting the pricing of your products right, you will never know for sure whether you will be able to cover all of your fixed costs and still make a profit. But if you get it right from the beginning, not only will you make money sustainably, you will also eventually be able to grow your business!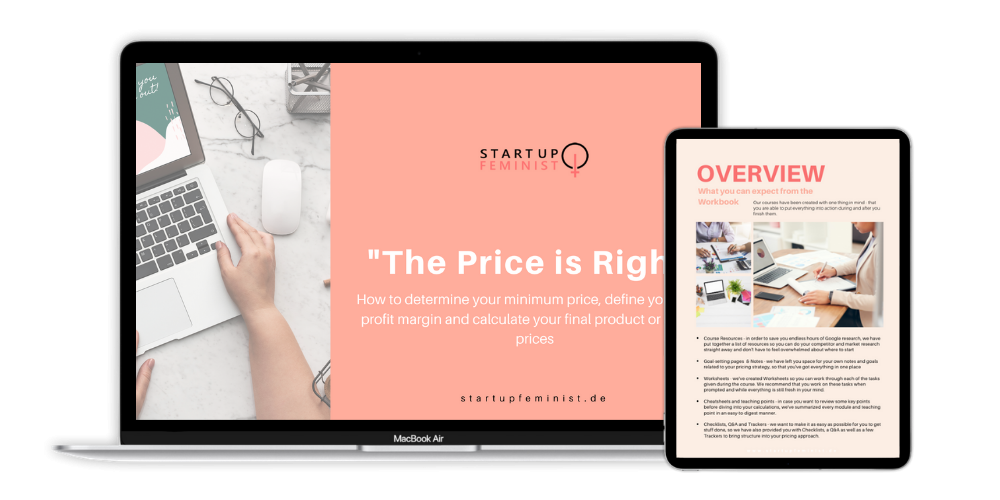 You know that in order to grow a thriving business, you need to know how to come up with the right pricing for your products so they sell.
However, you find yourself asking questions like…
How do I price my products?

Where do I even start?

What type of costs do I need to include in my price calculations?
Imagine feeling confident about your products & services that help you generate profit AND grow your business
...without the overwhelm, stress and anxiety that might come with it.
What would happen? Let us ask our crystal ball…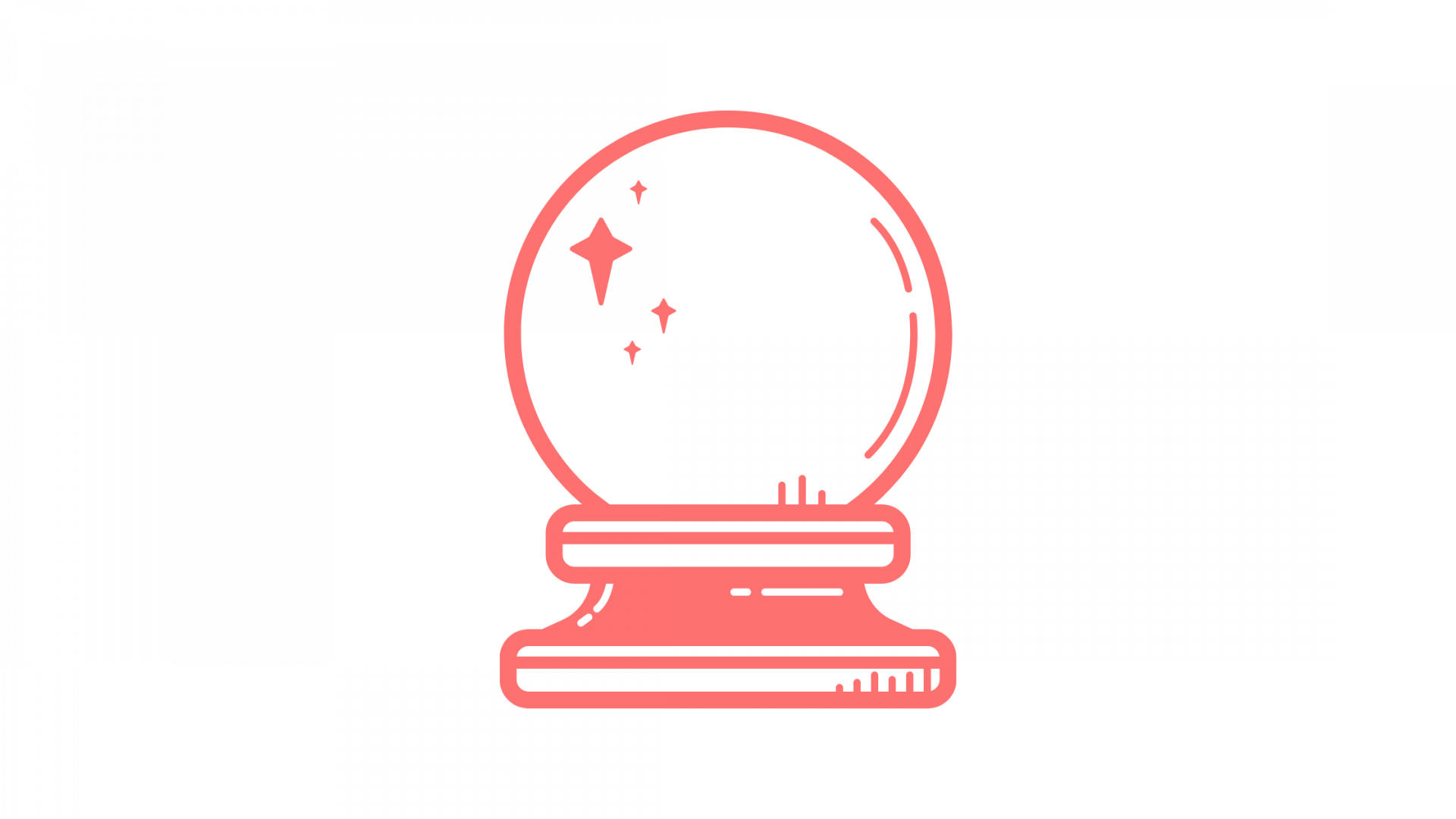 You'd feel

Kamala-Harris-style confident

sharing your offer with the world, knowing that you have built a business that makes money sustainably and attracts the right kind of customers!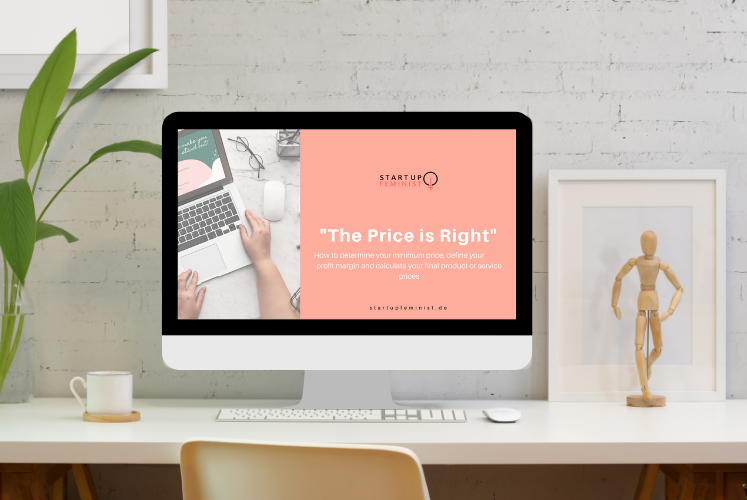 The step-by-step course that shows you how to determine your minimum prices, define your profit margin and calculate your final price so you can start selling your products and services!

EVERYTHING YOU NEED TO LOCK IN YOUR PRICES AND SET A FOUNDATION FOR YOUR BUSINESS.
MODULE 1
MARKET & COMPETITOR RESEARCH
How to use Market & Competitor Research to your advantage
MODULE 4
FINAL PRICE
How to come up with your final sales price
MODULE 2
PRIME COSTS
How to determine the minimum price you need in order to cover your costs
Assignments
We want you to actually put what you've learnt into practice as you go along, so each module contains assignments for you to complete.
MODULE 3
PROFIT MARGIN
How to define an appropriate profit margin on top of your prime costs
Templates
You will receive Workbooks and Templates including an Excel Sheet ready for you to plug in your numbers.
What makes The Price is Right different?
The Price is Right was created by two women who know what they are talking about!
Unlike a lot of other courses out there, we have actually experienced, tried and tested everything we teach in our courses.
We didn't just read a couple books and take a few online classes and decided to call ourselves experts. We are seasoned professionals who have had successful careers and successfully implemented our strategies & learnings across dozens of businesses - from Fortune 50 Companies to high-growth startups.
Now we want to share our knowledge and experience with YOU, so we create courses that are designed to be....
Easy to follow - you can pause and pick up later at any time

Bite-sized lessons - we want you to stay full of energy & take it all in, so each lesson is 10 - 15 mins

Regular Check-Ins during the course - teaching points will help you review what you've learned

Ready to be implemented - you'll be putting everything you learn into action as you go along and by the end of the course, have nailed your pricing
ARE YOU READY TO LAY THE FOUNDATIONS FOR A PROFITABLE, GROWING BUSINESS?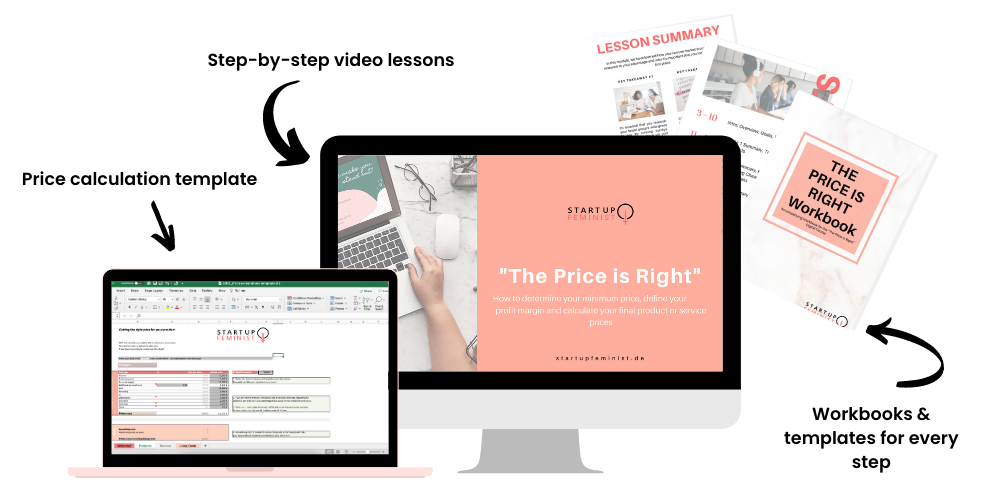 Here's what's inside our The Price is Right Course
The Price is Right Digital Lessons
We will walk you through the process of coming up with your pricing step-by-step. There are four modules in total and each contains a mixture of bite-sized video lessons and tasks to ensure you can put everything you learn into practice right away.
Price Calculation Template
We won't just send you off with a video course and then hope that you'll be able to find some sort of calculation template. Nope. We have created an Excel template that will automatically calculate everything for you, saving you the headaches from having to come up with formulas yourself.
Don't just take our word for it....
I am in the process of launching my own company and was a little overwhelmed with stuff. I'm so glad I was able to take your course, as it really helped me get clarity on the steps involved when setting prices for my services. I also found the templates super helpful, especially the Excel one - being able to just put in the numbers and then having everything calculated automatically was a huge timesaver!
Don Tran H.
People & Culture Expert & Mindful Recruiting Advocate

In addition to the entire The Price is Right course, we are also throwing in a couple bonuses to give you a kickstart for building a solid foundation for your business.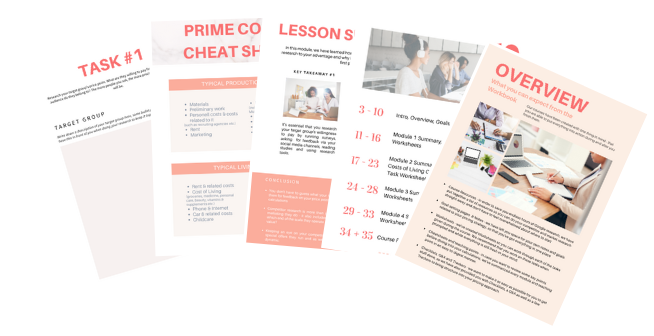 BONUS 1
35+ page Workbook
We know how difficult it can be to remember everything you've learned in a digital course.

To make things a little easier for you we created a Workbook that contains lesson summaries, cheat sheets, all of your tasks, a list of resources and more. This way, you have everything in one place.
Mission & Vision Template
We've encountered a lot of business owners who didn't have a clear mission & vision for their business. Don't be one of them! It's important that you have these defined as you'll likely find yourself struggling to implement any kind of longterm strategy otherwise.

Therefore, we're throwing in a 10-Page Workbook with tips & guidelines around how to formulate a clear mission & vision as well as your elevator pitch.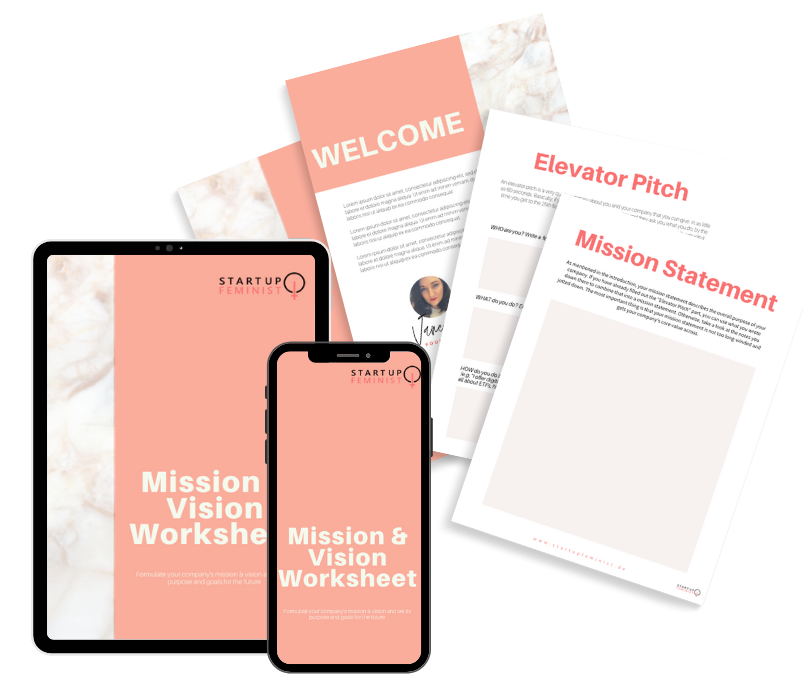 Ready to lay the foundations to build and grow a thriving business?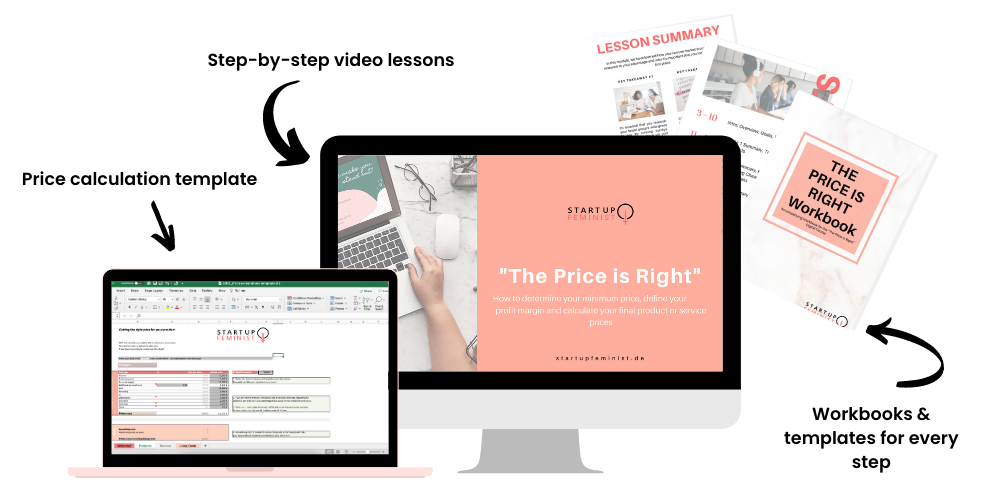 The Price is Right Digital Course (value = $107)

Price Calculation Excel Template (value = $29)

35+ Page Workbook (value = $35)

10 Page Mission & Vision Workbook (value = $20)
Total Value = $ 191
One Payment of $107

$ 57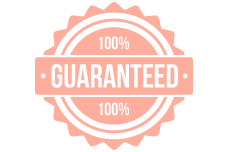 Buy it, try it, apply it! You're backed by our 100% satisfaction guarantee.
For those of you who are on the fence, we want to give you every opportunity to put our pricing strategy into action and experience how easy it will be to determine prices for your products/services that your customers will want to pay and are 100% aligned with your brand.

That's why we are giving you a full 14 days to go through the program, watch all the videos, do the tasks and calculations and implement the steps we show you in the course.

If after that you're still struggling, we will personally jump on a 30-min video call with you to help you get to where you need to be.
Think about how good it will feel when you sit down in front of the course and then..
Sit down in front of your laptop with a cup of coffee in hand (or tea, we're all for equality here!) and you click the "Start Lesson" button knowing you're taking another steps towards building YOUR business

Do the exercises from each module and see your pricing strategy take shape as you go along

Fast-forward a few days when you have your final calculations in front of you and see how you have made another piece of the puzzle fit into your wider business strategy


Be one step closer to creating a thriving and sustainable business that will generate a healthy profit for you
The Price is Right gives you every. single. thing. you need (AND MORE!) to confidently implement a lasting pricing-strategy and build a sustainable business.

We are Ania & Vanessa, the heads behind startupfeminist and passionate entrepreneurs with decades of experience in helping build & scale up businesses, creating & implementing marketing strategies and bringing structure & processes into organisations - from start-ups, venture builders to big companies.

We've honed our skills and built up our expertise starting off as normal employees and then later advancing in leadership positions.

During our years we saw how even established startups struggled with finding the right approach and processes. While we helped them bring order to the chaos we thought - let's found a company so we can help more people!

We can't wait for you to get your hands on this and future courses and templates that we've created to help you build and scale your business. We'll see you inside!

You have questions. We have answers.
Can I take this course even if I'm offering digital products or a service such as Coaching, Yoga etc.?
Absolutely! We've created this course so that it works for BOTH types - products OR services. Calculating your prices for services offered is a little different but we show you what you need to take into consideration in the course.
How advanced is this? I know nothing about pricing or pricing strategies!
Perfect! That's exactly who this course is for. In it, we teach you the very basics you need to have in place in order to come up with an initial sales price.
I've got a lot on my plate, do I need to follow this course week by week or can I go at my own pace?
You can absolutely go at your own pace! Every module is split into bite-sized videos and we also give you "homework" during every lesson, so we encourage you to take the time you need! You can pause and resume at any time. Also, this course is accessible to you long term - once you've purchased it, you can view it as many times as you want, even in a years' or two time.
Get your hands on this today & tick off another thing on your long To-Do List!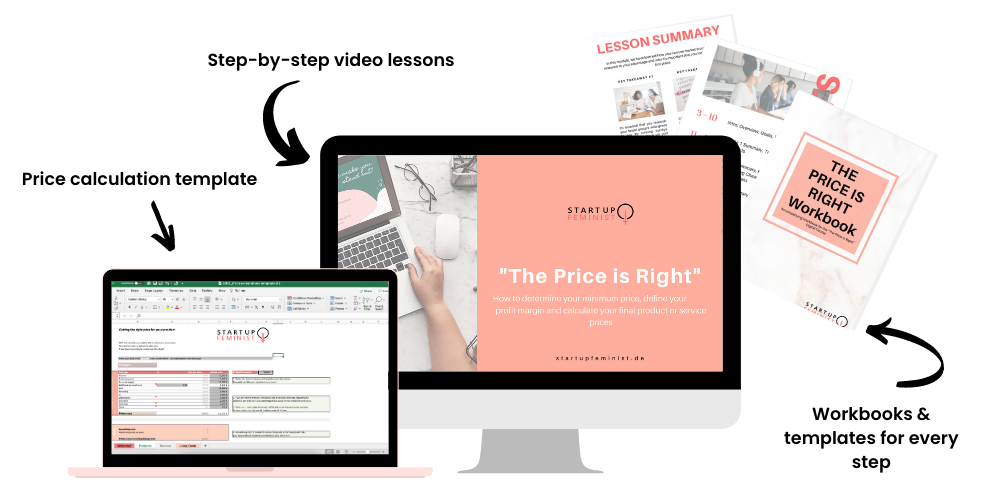 The Price is Right Digital Course (value = $107)

Price Calculation Excel Template (value = $29)

35+ Page Workbook (value = $35)

10 Page Mission & Vision Workbook (value = $20)
Total Value = $ 191
One Payment of $107

$ 57
Created with